Experience our "outta this World" OUTER SPACE GAME TRAILER !
Ask about our GameTruck specials!!
ph:770-899-7765 or 678-769-1236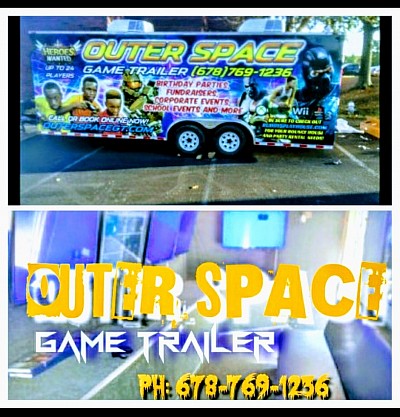 Make your next event ᴼᵘᵗᵗᵃ ᵗʰⁱˢ ᵂᴼᴿᴸᴰ when you book Buddy's,
"ᴼᵁᵀᴱᴿˢᴾᴬᶜᴱ ᴳᴬᴹᴱᵀᴿᵁᶜᴷ" !!
    𝕆𝕦𝕣 𝔾𝕒𝕞𝕖𝕥𝕣𝕦𝕔𝕜 𝕚𝕤 𝕤𝕥𝕒𝕥𝕖-𝕠𝕗-𝕥𝕙𝕖-𝕒𝕣𝕥, 𝕒𝕟𝕕 𝕡𝕖𝕣𝕗𝕖𝕔𝕥 𝕗𝕠𝕣 𝕒𝕟𝕪 𝕖𝕧𝕖𝕟𝕥, 𝕒𝕝𝕝 𝕗𝕠𝕦𝕣 𝕤𝕖𝕒𝕤𝕠𝕟𝕤! 𝕀𝕥 𝕔𝕠𝕞𝕖𝕤 𝕖𝕢𝕦𝕚𝕡𝕡𝕖𝕕 𝕨𝕚𝕥𝕙 (𝟞) 𝕗𝕝𝕒𝕥 𝕤𝕔𝕣𝕖𝕖𝕟 𝕥𝕖𝕝𝕖𝕧𝕚𝕤𝕚𝕠𝕟𝕤 & (𝟞) 𝔾𝕒𝕞𝕚𝕟𝕘 𝕊𝕪𝕤𝕥𝕖𝕞𝕤, 𝕚𝕟𝕔𝕝𝕦𝕕𝕚𝕟𝕘:
 (𝟚) ℙ𝕊𝟜, (𝟚) 𝕏𝕓𝕠𝕩 𝟙, (𝟙) 𝕏𝕓𝕠𝕩 𝟛𝟞𝟘 & (𝟙) ℕ𝕚𝕟𝕥𝕖𝕟𝕕𝕠 𝕎𝕚𝕚. 𝔸𝕟𝕕 𝕕𝕠𝕟'𝕥 𝕨𝕠𝕣𝕣𝕪 𝕒𝕓𝕠𝕦𝕥 𝕘𝕒𝕞𝕖 𝕤𝕖𝕝𝕖𝕔𝕥𝕚𝕠𝕟𝕤, 𝕔𝕙𝕖𝕔𝕜 𝕨𝕚𝕥𝕙 𝕪𝕠𝕦𝕣 "𝔾𝕒𝕞𝕖𝕥𝕣𝕦𝕔𝕜 𝔼𝕧𝕖𝕟𝕥 ℍ𝕠𝕤𝕥", 𝕪𝕠𝕦'𝕝𝕝 𝕗𝕚𝕟𝕕:
(𝟚) 𝔾𝕒𝕞𝕖 𝕕𝕚𝕤𝕔 𝕓𝕠𝕠𝕜𝕤 𝕗𝕚𝕝𝕝𝕖𝕕 𝕨𝕚𝕥𝕙 𝕥𝕙𝕖 ℍ𝕆𝕋𝕋𝔼𝕊𝕋 𝕘𝕒𝕞𝕖𝕤 𝕤𝕦𝕔𝕙 𝕒𝕤 𝔽𝕠𝕣𝕥𝕟𝕚𝕥𝕖, 𝔾𝕣𝕒𝕟𝕕 𝕋𝕙𝕖𝕗𝕥 𝔸𝕦𝕥𝕠, ℂ𝕒𝕝𝕝 𝕠𝕗 𝔻𝕦𝕥𝕪, 𝕄𝕒𝕕𝕕𝕖𝕟, ℕ𝔹𝔸 𝟚𝕂 & 𝕄𝕌ℂℍ 𝕄𝕌ℂℍ 𝕄𝕆ℝ𝔼!!!
𝙁𝙤𝙧 more information on 𝙖𝙫𝙖𝙞𝙡𝙖𝙗𝙞𝙡𝙞𝙩𝙮, 𝙧𝙚𝙨𝙚𝙧𝙫𝙖𝙩𝙞𝙤𝙣𝙨 𝙤𝙧 𝙘𝙪𝙧𝙧𝙚𝙣𝙩 𝙨𝙥𝙚𝙘𝙞𝙖𝙡𝙨, 𝙘𝙖𝙡𝙡
𝙥𝙝: 770-899-7765 𝙤𝙧 678-769-1236.
Does our Game Trailer travel to you?
[̲̅G][̲̅A][̲̅M][̲̅E] [̲̅T][̲̅R][̲̅U][̲̅C][̲̅K] [̲̅O][̲̅N][̲̅L][̲̅Y]
░S░e░r░v░i░c░e░ ░a░r░e░a░ is up to
 𝟝𝟘 𝕞𝕚𝕝𝕖𝕤 from
𝟟𝟜𝟘𝟜 𝕋𝕒𝕣𝕒 𝕓𝕝𝕧𝕕. 𝕁𝕠𝕟𝕖𝕤𝕓𝕠𝕣𝕠, 𝔾𝔸 𝟛𝟘𝟚𝟛𝟞...
{𝔽ℝ𝔼𝔼 𝔽𝕌𝔼𝕃 𝕦𝕡 𝕥𝕠 𝟚𝟝 𝕞𝕚𝕝𝕖𝕤}   
𝟚𝟞-𝟛𝟟 𝕄𝕚𝕝𝕖𝕤- $𝟚𝟝.𝟘𝟘 𝕗𝕦𝕖𝕝 𝕗𝕖𝕖
 𝟛𝟠-𝟝𝟘 𝕄𝕚𝕝𝕖𝕤- $𝟝𝟘.𝟘𝟘 𝕗𝕦𝕖𝕝 𝕗𝕖𝕖